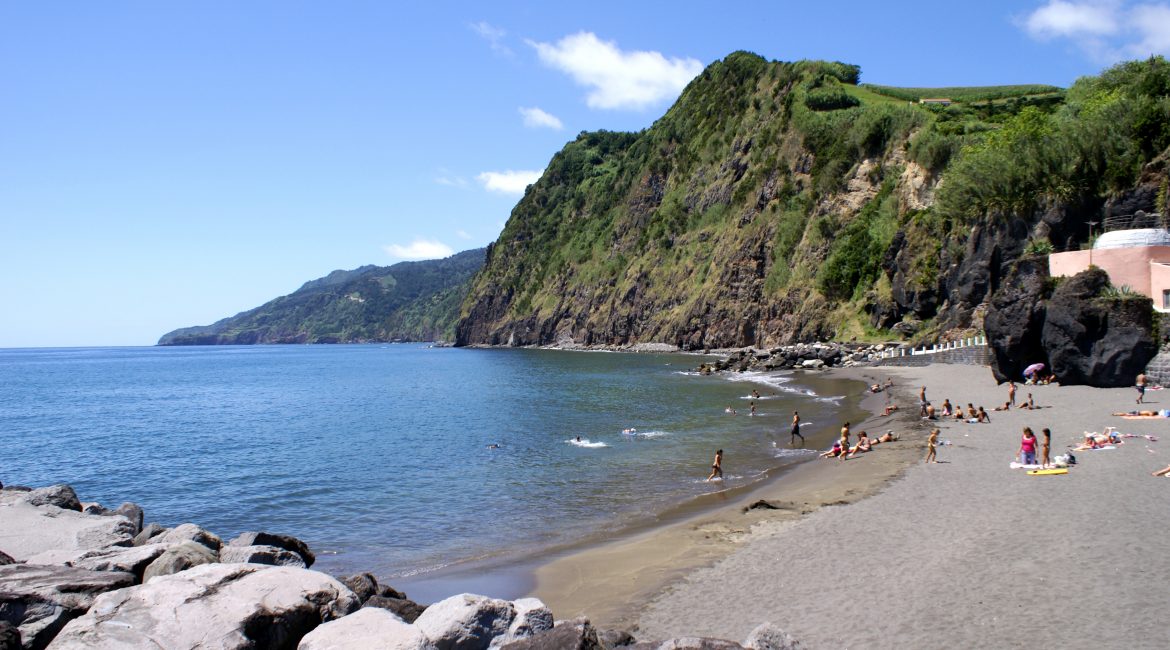 The island of São Miguel enables great photographs worthy of a unique postcard, but being in the presence of such beauty is really another thing.
In this article, we will focus exclusively on the best beaches in São Miguel, which will certainly delight not only sun and beach lovers, but also those who like tranquility and nature.
Praia da Viola

Viola beach is located in Lomba da Maia, in Ribeira Grande. This beach is well known for being part of the trail that starts in Porto Novo. It is a small beach, with coarse sand and some pebbles, also having a cliff with springs and, if you cross this beach, next to the mouth of Salto´s riverside, you will have the opportunity to see a waterfall. Although the waves and currents are usually strong, this area is very quiet and ideal for those who like to be surrounded by nature listening to the sea.
Praia da Caloura
Located in Lagoa, Caloura beach is in fact a small fishing port with clear waters and lighter sand than is commonly found in the rest of the island.
Right after the coast, this beach has a natural pool, where you can take a refreshing dip in its waters distinguished with the Blue Flag, and enjoy the wonderful cliffs that surround it.
This beach also has a small port with an access ramp for water sports, a snack bar and lifeguard.
Unfortunately, this year 2023, this beach has little sand and a lot of stones.
Praia do Pópulo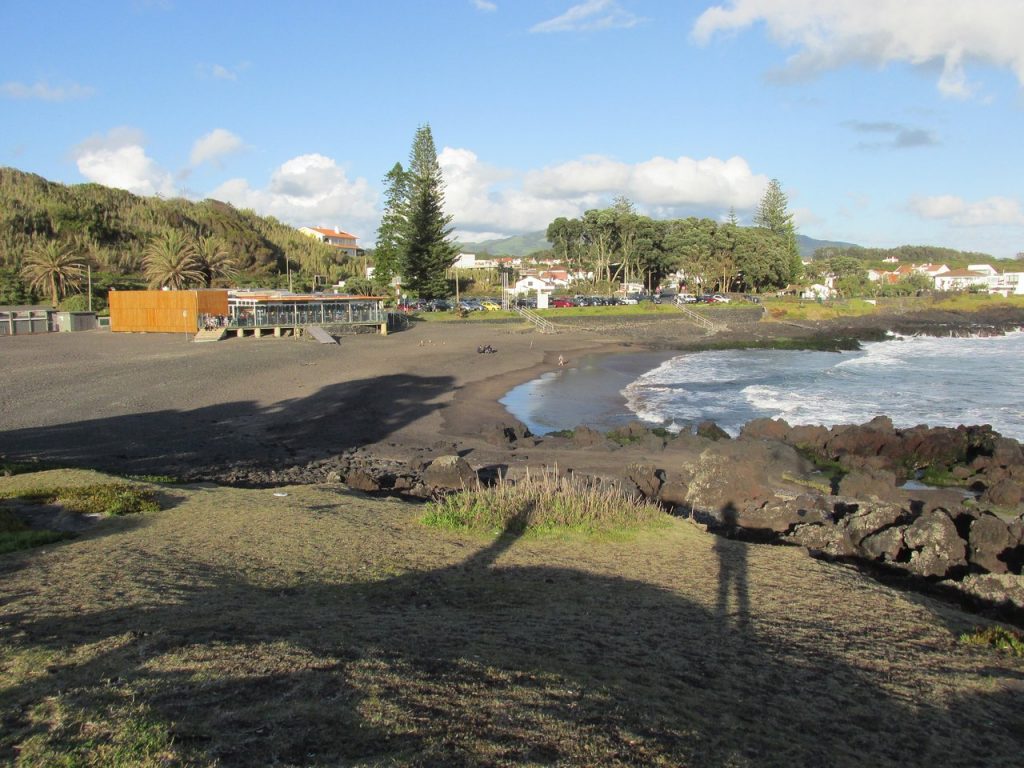 Better known among local residents for "Praia Pequena" (small beach), this beach is located in the parish of Livramento.
In the 17th and 18th centuries, this area was a private property, used for the cultivation of vineyards. Currently, it is a public bathing area, which has the typical volcanic sand and its waters are also distinguished with the Blue Flag.
It also has changing rooms, a lifeguard and a bar and terrace, perfect for having a drink after a swim and enjoying the beautiful sunset.
Praia das Milícias

Praia das Milícias (Militias beach) is known by locals as "Praia Grande" (Big beach).
This is one of the most frequented beaches on São Miguel island, due to its proximity to the city of Ponta Delgada, but also because it offers a wide range of bars and restaurants near by.
Its waters are calm and good for water sports, being very sought after by surfers as well.
This is also a guarded beach with changing rooms and a large car park.
If your aim is to stay in the center of Ponta Delgada to benefit from its cultural activities, bars, restaurants, theaters and museums, you can choose to stay in the T3 Downtown Apartment, a very well located apartment with excellent options for a family stay in the center of Ponta Delgada.
Praia da Ribeira Quente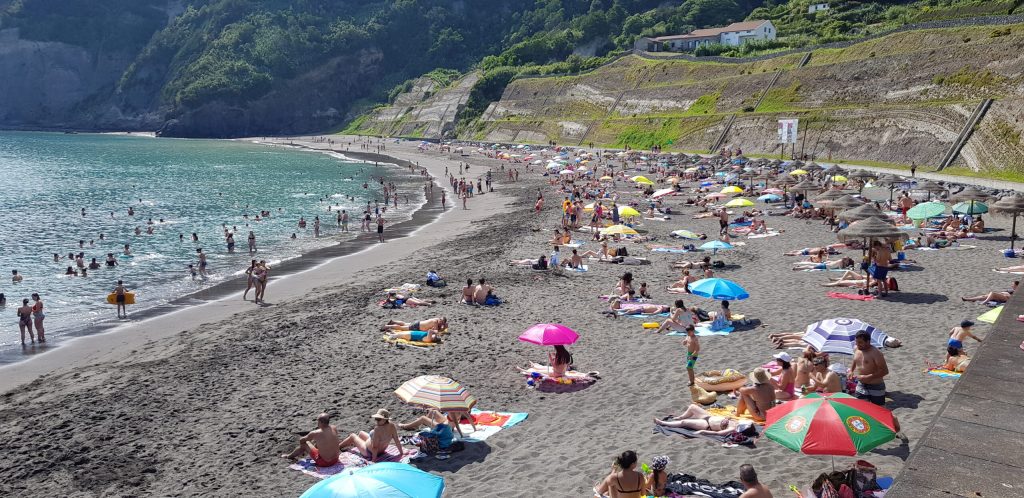 Ribeira Quente beach, also known as Fogo beach, is located in the parish of Ribeira Quente and owes its name to the temperature of its waters. Because there are several underwater hydrothermal vents, its waters acquire a warm temperature.
It is a very beautiful beach, with the green of the mountains as background, which gives it a landscape worthy of a postcard.
It is an extremely popular beach not only by residents but also by tourists, having also been awarded with the Blue Flag.
Praia dos Mosteiros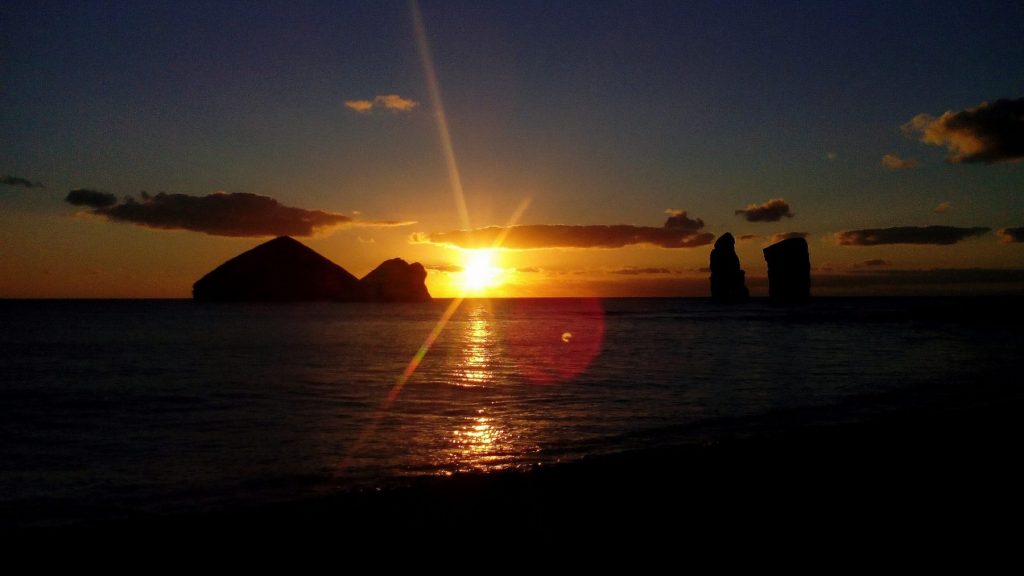 Located in Mosteiros, this beach, although small, is very popular due to its warm and transparent waters where two streams flow.
Its dark sand contrasts with the surrounding green of great beauty, from where you can also observe the two islets on the horizon that serve as a bird reserve, making them the ideal spot for bird watching.
This beach is one of the best places to enjoy the sunset.
Praia do Areal de Santa Bárbara
Located in the parish of Ribeira Seca, in the city of Ribeira Grande, Santa Bárbara Beach is one of the largest beaches in São Miguel island.
It is a pleasant beach, ideal for swimming or just sunbathing, and is equipped with all conditions such as parking, changing rooms, restaurant and bar.
This beach is also ideal for water sports, being very popular with surf and bodyboard lovers, and is often referred to as the "surfers' beach".
Be advised of its frequently strong currents so be extra cautious specially with children. 
Praia da Vinha D'Areia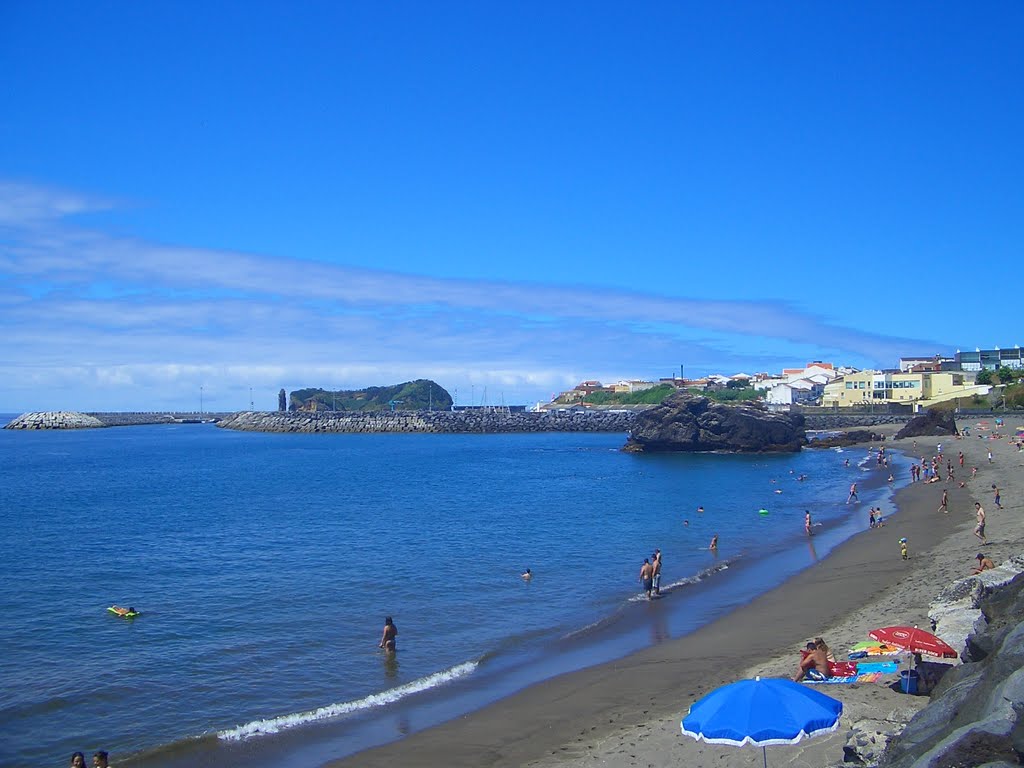 Vinha D'Areia beach is located in Vila Franca do Campo and, although small, it is also a very popular beach.
Its sand is fine and dark, its waters are clear and surrounded by rocks and green areas. It has good surrounding infrastructures such as restaurant and bar, changing rooms and toilets. It is also a guarded, Blue Flag beach.
Praia de Água D'Alto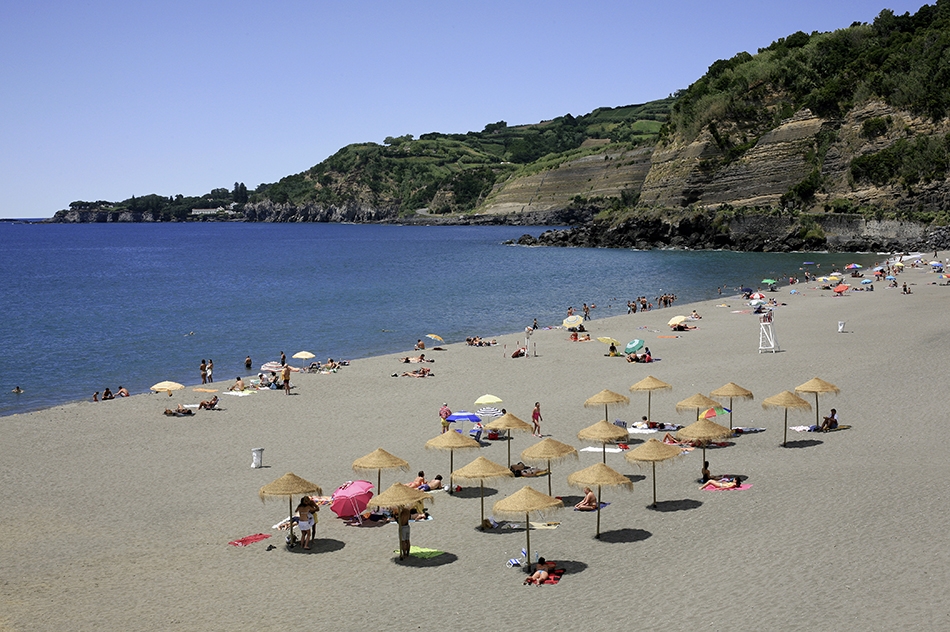 Also located in the municipality of Vila Franca do Campo and considered by many as one of the best beaches in São Miguel, Praia de Água D'Alto is a cozy beach, located in a beautiful bay.
Its waters are cristal clear and usually very calm and its surrounded by a green panorama which will surely enable beautiful pictures.
This beach has parking, restaurant, bar and bathrooms.
Praia do Lombo Gordo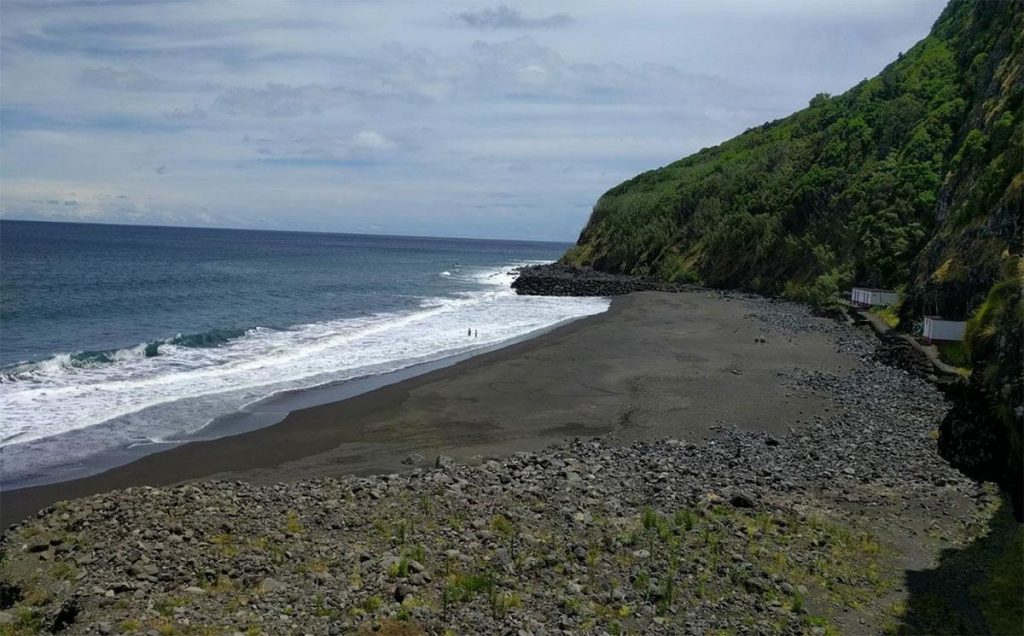 This beach is located in the municipality of Nordeste and is quite an isolated beach, where you can enjoy its tranquility and cristal clear waters, and is part of a nature conservation area, located in Ponta do Arnel.
It differs from other beaches due to its sea currents: due to the settlement of sands, this beach every seven years sees its sand area changed meaning that some years it has a big sand area and some others the sandy area is much smaller.
Praia dos Moinhos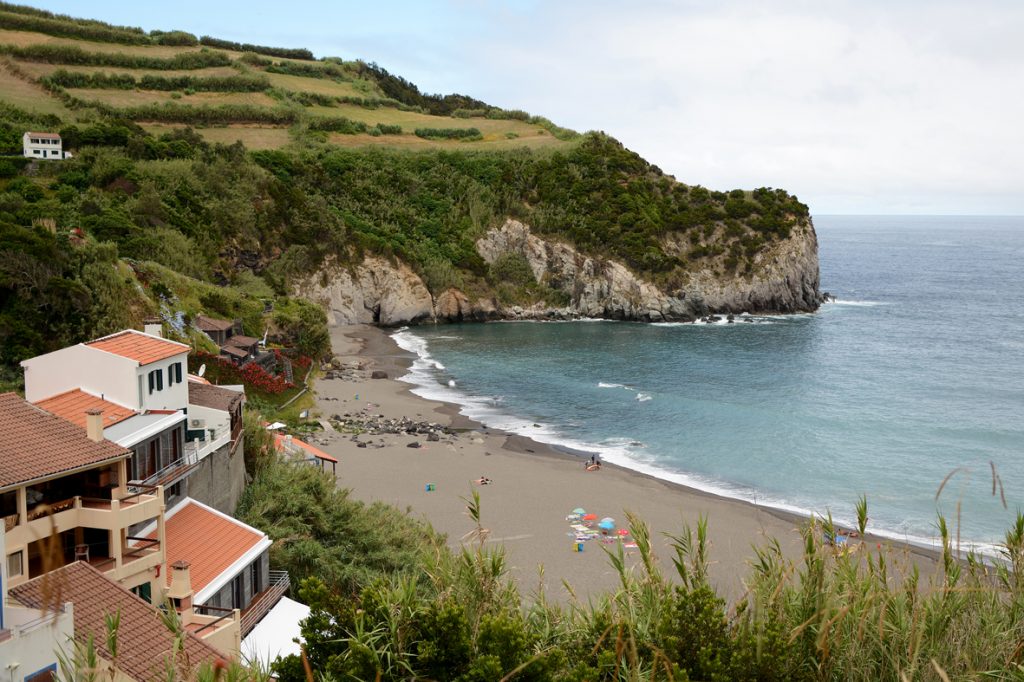 Also quite popular amoung locals and tourists, Praia dos Moinhos is located in the parish of Porto Formoso, in the municipality of Ribeira Grande, and is characterized by its rocky cliff and for its inviting clean and cristal clear water that ask for a revigorating swim and also by its green-covered slope.
This beach is equipped with sanitary facilities and a bar and very near by you may also find some restaurants where the fish is absolutly fabulous.
Now that you know the best beaches in São Miguel, nothing better than embarking on an adventure and exploring them. Whether for swimming, sunbathing or simply enjoying a cocktail by the sea, these beaches offer you peace of mind and tranquility.