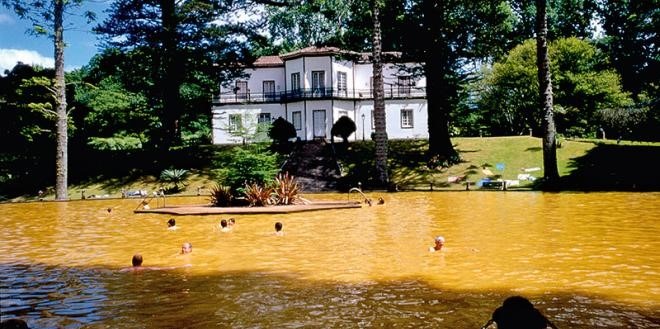 In Furnas it is worth visiting the Terra Nostra Park of the Hotel of the same name, but if you have enough time to spend a few hours there, such as a morning or an afternoon.
I recommend eating the stew in the hotel restaurant, and after lunch, stroll through the botanical garden while digesting the stew, and at the end of the afternoon relax and bathe in the park's hot pool. The price of the stew meal includes entrance to the park, € 8 per adult.
The botanical park has many varieties of trees, of plants, and is very pleasant to stroll in its alleys, enjoying the lakes, streams and gardens.
And to end in beauty, take a relaxing bath in the hot water pool. The pool is large and circular, just like in the picture. The water is yellow because of the iron, so you should wear an old bathing suit, so as not to get spoiled with yellow stains from the ferrous water.
The park closes at 6:00 p.m., so you should come a few hours early to enjoy the park and the swimming pool.